Clothes for Water Parks and Theme Parks
Adventure parks are these unique places where you wear clothes in ond out of the water for hours, unlike in a swimming pool.
You may want to go onto several rides, chill out in a deck chair, or visit the restaurant. Your clothes should be comfy the whole time, both wet or dry.
Are you going to a dedicated water park where they may require swimwear, or to a theme park with soaking wet rides where you're required to wear clothes and shoes? We hope to help you in both scenarios.

Initial Considerations
A few clothing concepts apply to both water parks and theme parks, mainly for your comfort when you get wet. These parks let you wear certain clothes in the water, which makes choosing the right kit far more interesting.
Keep Warm
Do you notice how your friends or family start shivering after a while in the water? Maybe they are not dressed warm enough for the location. Full length swimwear keeps you warmer, unless it's cotton.
A windbreaker anorak over a thermal top with matching pants is the smart choice to keep warmer when wet, yet this outfit is lightweight and quick drying.
These clothes feel comfy in the water and can look way cool if you pick the right kit. It may slow you down a little, but at least you won't be cold or sunburned like the dork nearby.

Underwear
Conventional briefs, boxer-briefs, and boxers made from cotton hinder the moisture wicking properties of the microfiber athletic shorts. Theme park wet rides use swimming pool sanitation standards like chlorinated water. Cotton, as well as wool and linen, suffers accelerated linting and color fade in chlorinated swimming pool water.
We recommend you freeball (no underwear) or wear compression spandex or polyester shorts for underwear, especially if the polyester is a wicking microfiber. Dri-fit type boxers have come onto the market. You can wear a wicking microfiber shirt or jersey and shorts in place of underwear under a hoodie and shorts or pants.
Socks and Shoes
In most water parks you can run around barefoot, but multi-strap sandals are the most practical choice. Flip-flops are not recommended for standard theme parks with wet rides because of potential of the sandals falling off and blistering. Water-friendly socks may mitigate the blistering but you may not like the appearance.
Amphibious hiking sandals are the best. While wet they provide decent traction and stay comfortable on long walking distances typical of theme parks. Amphibious hiking sneakers and shoes are also coming to the market now.

Water Parks
Some water parks are embedded within a larger general theme park.
Most water parks will require shirt and shoes in the main water park area. For water parks that are embedded in conventional theme parks, you will probably be able to wear the same clothes in the water park and the theme park.
You avoid the need for changing rooms if you wear a dri-fit / wicking shirt over your pants or boardshorts. They will wear wet comfortably and keep you cool longer while waiting in long lines for rides.
Not allowed is anything with buttons, zippers, snaps, buckles, rivets, or anything else abrasive, as this can cause injury or damage the pools and rides.
Shoes are more flexible as you can usually walk around the water park barefoot. Flip-flops and slide-type sandals are recommended if you prefer not to walk barefoot but you won't be able to wear them on the rides.
Ride operators in most theme park may let you enter the ride or the ride's queue if your clothes are wet. If it is a hot sunny day though, athletic microfiber clothing will dry quickly, usually under an hour, and many popular core rides (particularly roller coasters) have lines that are an hour or longer wait, but the wet athletic clothing would be not uncomfortable to wear wet and would keep you cool in the long lines.

Theme Parks
Theme parks often have wet rides that get you completely soaked.
You will be required to wear clothes and shoes at all times even on the wet rides. You'll probably be wearing your wet clothes for most of time in the theme park. Standard theme parks with wet rides are the only public places where you can indulge in wearing wet clothes in the full open, other than the beach but with less stares.
The dri-fit wicking microfiber is more comfortable to wear while wet than other fabrics, especially cotton tees and denim jeans. Athletic dri-fit wicking wear microfiber clothing will wear wet comfortably and maintain presentable appearance while wet.
The higher end kit does even better. Adidas ClimaCool and the like are also breathable (mesh ventilation) and have anatomic shaping and stretchy spandex even on loose fits. Shorts and pants should be un-lined (some high-end soccer shorts have comfort liners).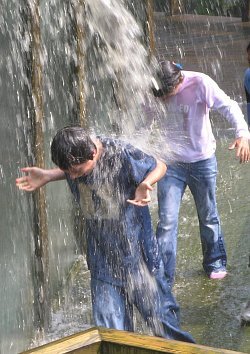 You'll have to keep your clothes on in theme parks.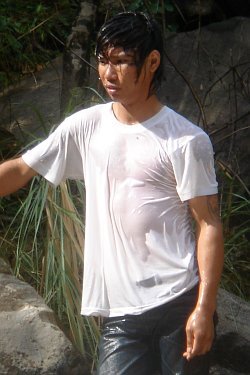 Swim shirt and nylon pants
Look Good
If you want to dress nicer (resort casual or smart casual) but have clothing that will look good while wet and dry within an hour or so. Athletic microfiber will dry in less than an hour even in humid weather, 30 minutes in hot and dry climate.
Look for polo shirts, dress shirts, bermuda shorts, and dress pants from corporate uniform sources. Make sure they are 100% microfiber and not a poly/cotton blend. Unless explicitly advertised, don't expect any breathability from microfiber dress clothes.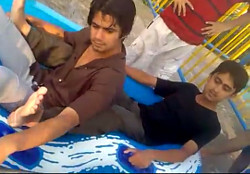 You may be required to wear clothes on the wet rides.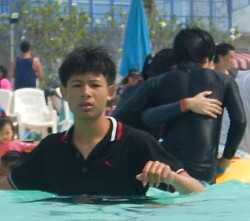 Polo shirts always look good.

Theme park water rides that will get guests wet or soaked wet while requiring shirt and shoes are becoming rare in america.
The wettest ones are long-drop boat-flume rides and river rapid rides. But there were specialty ones such as Hershey Park's Roller Soaker too.
Many theme parks are replacing these rides with full-on embedded water parks where sportswear is allowed and generally mandatory. The ability to augment your roller coaster and other ride thrills (particularly wooden coasters) by being forced to slip back and forth in the roller coaster car because of your wet clothes (best with lap-restraints only and nobody in the row with you) is becoming rare and generally coming to an end in America.
This thrill augmentation generally required you to wear heavier clothing (at least polo shirt and dress shorts, if not jeans or a sweatshirt) because with summer athletic microfiber polyester clothing, you'd be mostly dry by the time you got through the long line for the roller coaster.

Comparison of Cotton Clothes versus Sportswear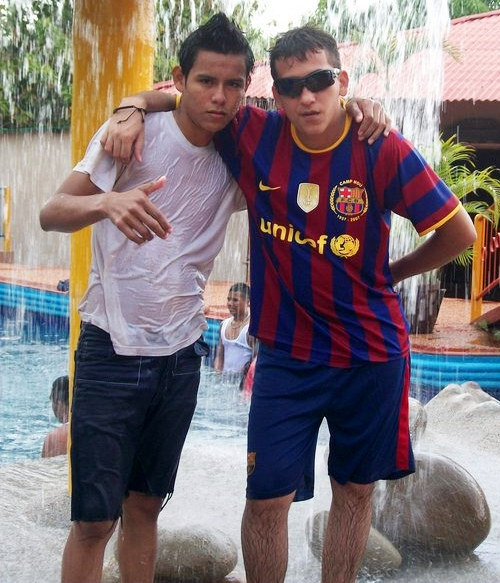 The boy on the left looks good in jeans shorts and a white cotton T-shirt. His shirt is sticking all over his body, highlighting his shape, one of the reasons guys like to wear cotton shirts for swimming. In very hot weather wet cotton keeps you cool, otherwise you may be better off in sportswear.
The guy on the right in a soccer uniform looks quite presentable despite being soaking wet. Soccer is a widely televised rain-or-shine sport and the clothes are designed to get wet. His jersey will dry in half the time than the cotton shirt. The denim jeans shorts will take hours to dry.
Brands for wick-wear microfiber polyester (athletic clothing):
Nike: Dri-Fit
Adidas: Climalite, ClimaCool (ventilated), Clima365
Under Armour: HeatGear, threadborne (not charged cotton)
Champion: Vapour, X-Temp, Double-Dry is older and not very good.