Clothing Tips for Swimmingpools
Why wear Clothes in a Pool?
Unless you're attending a nudist swimming session, you'll be required to wear at least minimal swimwear. Maybe you do special training for which you need more clothes, like lifesaving or survival swimming. In this section we look into options you have in a swimmingpool. Let's find out.
Fresh Clothes
Change into fresh swimming clothes on-site. They must be clean and colour-fast and should consist of "man-made" fibres that don't leak dye. The material has to be in good condition, not fraying or shedding fluff which could block the pool filters.
Go through the showers in these clothes before entering the pool. Make sure you rinse and soak them well. Dry spots show the staff you haven't taken a proper shower. Besides, it's great fun.
Realistic Survival Swimming and Rescue Training
Clothes add greater realism to your swimming and lifesaving practice, while building up your strength and confidence. This also makes your lessons more interesting and a lot more fun.
Any clothing worn for survival swimming, lifeguard training and assessments, should be representative of the type of clothing in common use, like what you may be wearing when faced with a potential rescue situation.
Your lifeguard team should be trained to swim well in their uniforms and and use clothes as rescue and towing aids. This is essential for effective rescues. When running initiative tests, dress the rescuers in red and yellow, whilst the casualties wear regular clothes.
Pick up right away any clothes you may drop to the pool bottom, as they may confuse the lifeguards. Large items of clothing floating in the pool can be mistaken as casualties and are also a hindrance for swimmers.
Move any clothes you currently don't need for your training to a safe place on the pool side, out the the way of other pool users.

Safe Clothing Colours
Light blue swim clothes make you almost invisible in the pool. The contrast is too low. Lifeguards may not see you and other swimmers may bump into you.
Consider swimwear in bright colours so you can be seen. Most swimwear on the market is black or blue, but a yellow anorak worn on top can cheer it up and provide a stronger workout.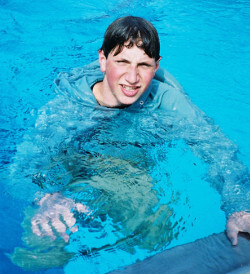 Light blue makes you invisible.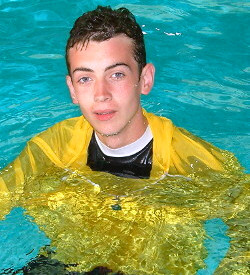 Bright colours are more visible.
Swimwear Fashion Tips
For fun in the pool you want quick drying clothes that feel good both wet or dry. This means you can get in and out of the water looking good and feeling great.
Bikinis and shorts were what most swimwear was about for a long time. Today, swimwear comes in many different shapes. Since the 1980's swimwear fashion changed faster than before, especially in Asia. With sun safety in mind and inspired by surfing and sailing fashion, the choice of swimwear has grown a lot.
When buying your swimming attire, choose the best quality that lasts longer and saves you money. Your swimwear may last according to care and maintenance. Swimming enthusiasts often have at least three sets. Remember that board shorts are generally for pool and beach parties only. When doing a lap, you will swim better when you wear the proper attire.
"Proper swimwear" is normally required, but there isn't really a standard definition for this, otherwise it would be stated. Pools prefer clothes from manmade fibres as they don't fluff up their filter systems. These clothes should only be used for swimming. Ask the pool management what their dress code is, especially for lifesaving and survival swimming.
Lycra swim shirts, body suits and speed suits are considered swimwear and should therefore be acceptable in most pools. Check that the fabric is chlorine resistant.
Public pools often have specific rules which you may come up against when you want to do specialist swim training. Ask at the reception if you can wear any training clothes in the pool. Explain that you want to do realistic survival swimming or lifesaving training. Sometimes you have to ask for the pool manager.

Swim Shirts
The most popular is the swim shirt or rash-guard (top for men and women). A sporty swim shirt can be worn all day, in and out of the water, so it's ideal for those summer days at the beach or in the pool.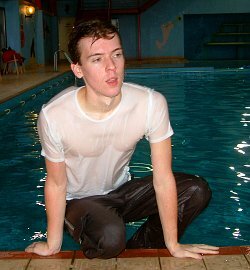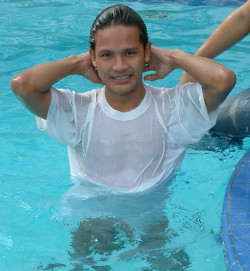 Proper Fit
Your swimming clothes should fit well, not too tight or too loose. Loose and baggy clothes may get caught on something, particularly on slides. Clothes should be unlined to avoid pockets where water or air gets trapped.
Lifeguard anoraks, tracksuits and other sportswear are best for survival swim training and lifesaving classes. These robust clothes can be used as towing aids.
Clothes must not restrict your movement or cause significant drag in the water, again for safety. The idea that "resistance builds stamina" is evidently considered inappropriate by some safety officers.
Avoid exposed metal rivets or fasteners, because they could cause injury to other swimmers or scratch and damage the slides. Some "approved" Speedo "original swim shorts" have a small metal eyelet at the bottom of the back pocket, where it could easily cause scratches.
If you train outdoors be aware that most sun lotions wash off and leave you exposed to sunburn. Appropriate clothing keeps you covered.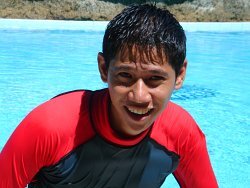 Spandex Swim Shirt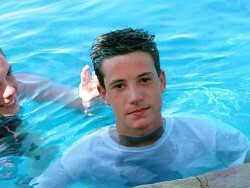 White swimming T-shirt
Reader Comment
My Favourite Swimsuit
by Ryan, Bangkok, Thailand
Got this idea from my friend Sean who wears simple rainwear for his pool training. My cagoule and rain pants cause enough drag in the water for a good workout. It feels good on my skin and dries quickly after a swim session. The locker room key goes into the front pocket.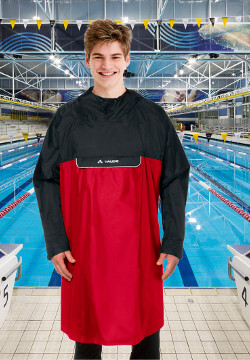 This is my best swimsuit. It feels really good in the water and I enjoy swimming in it for fun and fitness.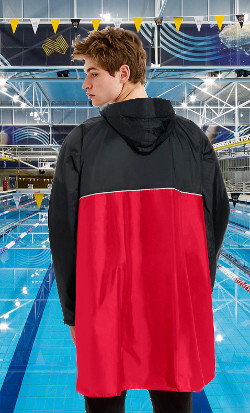 When swimming I put the tight hood up, or it fills with water.