River Hiking
There are many exciting river activities to enjoy with the help of experienced guides. Here are a few to get you started:
Beginner Trips
Recommended for those who are not so confident in their swimming and climbing skills. Enjoy an easy and accessible trip to beautiful places which can be completed in half a day. Walking is minimal as the route is more relaxed and not so long.
Good swimming skills are useful, but not required. Learn how to swim in your clothes and climb in wet terrain. This is a great fun way to get the hang of river adventures.
Recommended Kit: Robust shoes and socks, comfy casual clothes. In a life vest, even non-swimmers can enjoy river tracing.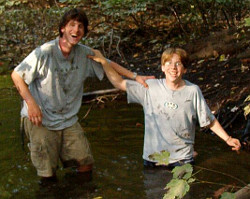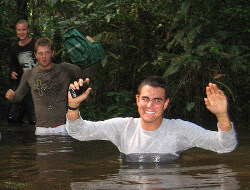 Intermediate Trips
Fun for first time river tracers who want a challenge and are confident in their swimming and climbing abilities. These trips can become more advanced the further you go up the river.
Requires some moderate climbing and swimming to get to the destination, be it a waterfall, wild hot spring, or rock pool. With safety equipment, comfy clothing, and an experienced coach, you can gradually master the skills needed to walk upstream in the river. Great for those who want to try river tracing and have some outdoors experience.
Recommended Kit: Robust shoes and socks, robust clothes.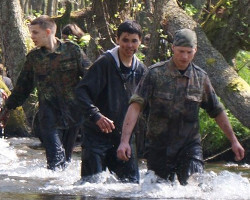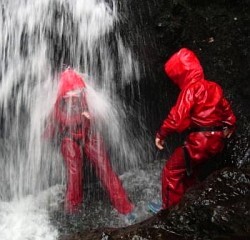 Advanced Trips
These trips will take you up wild rivers to beautiful places. Recommended for those experienced in adventure water sports who want a challenging, and uniquely beautiful, trip into the mountains.
You will have to earn it though. Long hikes in the water and waterfall climbs reward those brave enough to try out some of these full day river traces. The pay-off is always worth it.
Recommended Kit: Waterproof backpack for your dry kit. Robust trekking shoes and socks, robust and quick drying hiking pants, thermal pullover, and anorak.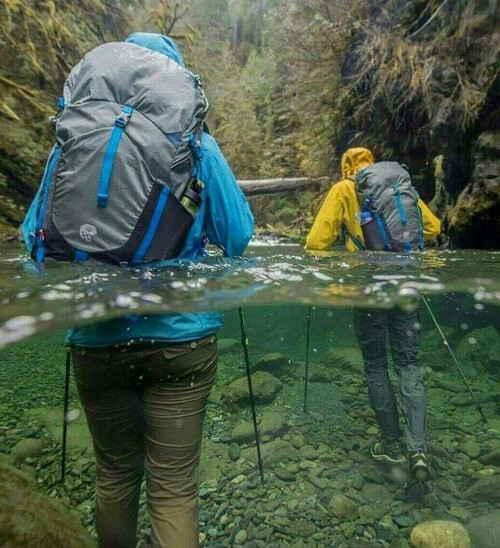 Mountain Hardwear Rainshadow Outdry Backpack

Clothing and Equipment
Do your best to keep yourself comfortable and safe on any of your sessions by ensuring you are appropriately equipped.
Since the water may be colder than in lakes, you require proper clothes to keep you warm when you get wet. In cooler climates a wetsuit and a cagoule keeps you as warm as possible. In warm climates you can swim in cargo pants, sports shirt, and a robust top like a hoodie or cagoule.
You also require walking boots to provide good grip, protection and ankle support, a buoyancy aid to keep you afloat and a helmet and harness to protect you on those more serious sections.
Cameras
Take photos and videos of your session to enjoy the memory. We would only recommend bringing a tough waterproof camera if it is your intention to take it into the gorge. With any other camera we cannot guarantee it will make it out in one piece.

Reader Story: Smart Teenager
by Michael, from Bournemouth, England
A while ago during the rainy season, I took my teenage son to hike the Inthanon National Park in northern Thailand. The hills are covered in beautiful forests, full of small lakes, rivers and waterfalls.
At higher altitudes tempartures can drop quite a bit in the the rain and mist, about 1°C per 100 meters. Many folks there had fancy Goretex outfits that cost as much as the airfare, all of which quickly wet through.
My son's nylon poncho kept him more comfortable than anyone else on the trail, even though he spend more time in the rain and often deep in the water. He sees a river or lake and he's in, clothes and all. Wild kid.
Since this trip he always wears his poncho over quick drying clothes when hiking or swimming. He also talked most of our family into it.
Last summer we went swimming in the rain on Bournemouth Beach. By the time we got to the beach it was raining hard. We were soaked through to the skin before we got into the water. My son in his wet poncho was loving it and we all enjoyed swimming in clothes a lot.