Cycling in the Rain
Riding in the rain is part of life on two wheels, no matter the time of year. Here's how to survive, and maybe even enjoy it.
A variant of hiking is cycling. It doesn't take a lot of preparation to enjoy a ride in wet weather, just a comfy bike, a few additional pieces of clothing and a dash of common sense.
Cycling in the rain is rarely a pastime riders will list as a favourite. But regardless if you're doing it because the rain started unexpectedly, because it was raining during commute time and you just had to get to work, or because the training programme said that's what you had to do, we all find ourselves riding in downpour at some point.
Road Grip
When riding in the rain, understand that the road grip is still there, but you must adapt your riding style to find it. If you think of riding on dry roads on a warm day, you will carve through the corners, lean the bike over and take the abundance of grip for granted.
With wet roads you want to stay upright for as long as possible before turning, maximising the grip available to your tyres, particularly when braking. Your brakes are much less effective when wet, so stopping distances will be greatly increased.
You are less visible to other road users so lights in inclement weather are a must, the more the merrier and the brighter the better. A yellow cycling cape with reflective stripes makes you more visible.
When on public roads also consider that puddles tend to form on the inside of the road, where you normally ride. If you have to go around a puddle, make your intentions abundantly clear to all other traffic around you and don't be afraid to wait until it is safe to do so.
Mudguards (Fenders)
If you're a hardcore all terrain mountain biker, you probably enjoy all the water spray your tyres throw up. It's all part of the wet fun experience, just like a jump into a lake. Unless you're completely soaked and dirty you haven't been on a proper ride.
Mudguards may not look cool but they make wet weather riding a lot more civilized. They also keep the bike cleaner than it would be without them. Some mudguards can be taken off quickly if you choose to ride on the wild side. Head to your local bike store, they will be happy to help you get your bike prepared.

Aquacycling: Fitness Preparation for Wet Weather
A good way to prepare for wet weather cycling is to join an aquacycling class at your local pool. Always wear your cycling kit in the water. This has two advantages:
1. Aquacycling gets you really fit. Working against the resistance of the water which makes you stronger. The training is very dynamic when you sprint, stand up, dunk down in the water and have a lot of exhausting fun.
2. You get used to cycling in wet clothes while in a safe environment. Try a few different outfits in the water to see what feels best when wet. After your workout, it's best to swim a few lengths in your clothes to prepare for open water swimming.
We're pretty sure cycling with an umbrella is illegal in many countries. Take the sensible option and get a pair of cycling overtrousers and a cycling cape or jacket to match.
Regarding your phone, you can get a durable ziplock bag with a neck lanyard and you can still use the touchscreen through it. Use the lanyard to keep it under your jersey.

Clothes for Rain Cycling
In terms of clothing and layers to use in the rain;
A good waterproof jacket or cape is invaluable, not only to keep you dry but warm.
Make sure you cover your hand and feet as they get coldest when wet on a bike.
A synthetic base layer will keep the sweat from sticking to you.
Neon or bright colours keep you visible to other road users.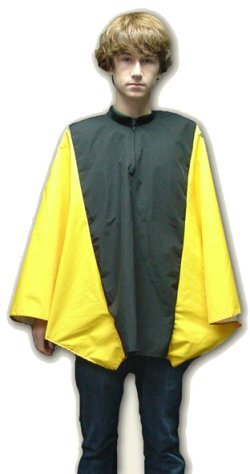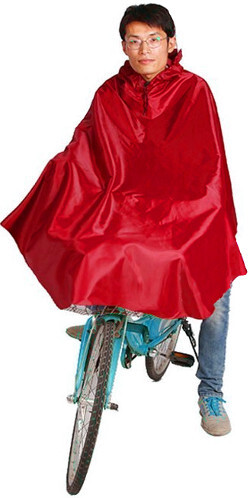 Summer Rain Gear
Rain gear for the summer is easy. Simply get wet and enjoy the cooling rain!
We used to get all covered up in waterproof rain gear for summer rain. Not only did we feel a bit smothered, it was fairly easy to start sweating and become uncomfortable from this arrangement anyway.
What we've found is much more enjoyable is to wear clothes that are comfortable when wet, and carry clothes for the destination in a dry bag. These are the same clothes that are comfortable to wear on longer summer bike rides anyway, so there is nothing extra to purchase for your wardrobe.
Wear a wicking shirt (polypropylene or a lightweight merino wool) and some quick drying shorts, with material like swim trunks have. The key atttributes when shopping here would be "wicking", "quick drying" or even directly "comfortable when wet".
A bill cap keeps a little of the rain out of your eyes as well.
Similarly, wear quick-drying sandals in this weather, and forgo biking gloves. The thin strips on my Chaco "Z" series dry quickly, making them comfortable to wear even while they are wet or drying of. If required for my destination, I may pack additional shoes and socks.
The overall effect is that a bike ride in summer rain can be rather enjoyable.
I also mix and match this approach with the covered-up approach described next. Sandals might be paired by rain pants if seems comfortable on a particular day.

Rain Capes
A waterproof rain cape is excellent for touring or commuting. In just a couple of seconds you can slip it on over whatever you're wearing and you are protected from the rain.
A good rain cape is generously sized, for maximum coverage. The hood has a drawstring and cord lock to adjust to your head. For visibility it has a highly reflective strip on the back with a hang tab for a blinking light.
A waist tie and hand grabs keep your cape in place.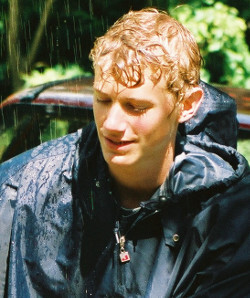 Wet Weather Bike Care
After each rain ride give your faithful road bike a nice wipedown as an expression of gratitude for its reliability. Wash the bike after every wet ride, this will save you money in the long run.
That's where your water bottle comes in. Grab it and give the spots with road grit a couple of quick bursts.
Remove from your bike all that dirt, mud, and grime that your tires and other components collected on your ride.
Pay close attention to the braking surfaces and drivetrain.
Wipe the chain dry and lubricate your drivetrain, it will last a lot longer. Give it a squirt of lube to keep it working smoothly and prolong its longevity. Use a wet oil based lubricant. Stay away from sprays as when they get wet they go everywhere and are quick to wash off.
And every once in a while, give your bike a deep clean. Check brake pads on a regular basis as they will wear quicker in wet conditions.
Then, make yourself a hot coffee, sit down, relax.

Reader Comments
Just Get Wet
Gene from Austin, Texas, USA
No poncho, no rain suit. I'm most comfortable in a wind jacket when it's raining. Water comes through in limited amounts. On a longer ride it soaks through and I get wet.
Then you only need to know how much to wear under the wind jacket and what to put on your legs. If it's warm, you can probably ride bare legged just fine. Leggings or running tights work fine when it is raining. They don't soak up much water and stay comfortable when wet.
For what to wear on top, you'll just have to experiment. If it's warm, I just wear a jersey in the rain. Let it get wet. Getting colder, then I add an undershirt. That should take care of whatever I'll probably encounter.
I've also ridden just fine in the rain in only a jersey and shorts when it was warm. Felt good. As long as I stay warm I fine with getting soaking wet.
My cycling kit is also my swimwear because it dries so quickly. Feels good in the water and is easy to swim in. No need to carry any extra kit or get changed.

---
Windbreaker
Ramiro from Austin, Texas, USA
Like Gene said, you're going to get wet either way. Fortunately it doesn't get that cold down here most of the year, so getting wet on a ride is survivable.
However, the wetness with the wind while riding can still be chilly. For that reason I would opt for something that is somewhat windproof so that you'll at least be warm.
I prefer thin layers so that whatever I'm wearing doesn't hold the water when you get wet. This feels good when cycling and I also wear this for swimming in the lakes that I pass when touring. It dries quickly afterwards.

---
Uncomfortable Rainsuit
Ryan, Cork, Ireland
I wouldn't recommend cycling rain suits. I own and have used rain jackets and pants. They do not breathe at all. Now I use them only as swimwear, no good for cycling.
I remember once riding with the front zipper down a few inches, pit zips wide open and wrist velcros as wide as possible, and I was just drenched from the inside. I took them off after about half an hour. Super uncomfortable being wet from the inside.
Cycling capes have great ventilation and make you visible, even when it doesn't rain. But often I don't wear any rain gear, just get wet in the rain and enjoy the ride.

---
Wicking Shirt
Alex, Bournemouth, England
When the temperature is warm enough, preferably 20°C or above, I just wear a long sleeve wicking fabric shirt with cycling pants and get wet. The thin poly tees are just enough to keep me warm and the fabric dries surprisingly quickly when I'm out of the rain.
My cycling kit doubles up as swimwear. I wear it in the pool for my esistance swim training, then hop on the bike and enjoy the rain or let it dry in the sun. No need to get changed. Big time saver, my kind of cross training.
I usually carry a very lightweight packable windbreaker. Packs into a sandwich sized ziplock bag. If the wind chill feels uncomfortable I'll wear it. So far it's been good in chilly light rain. Haven't had a chance to try it in a serious downpour.
My best cycling windbreaker/jacket is easy to carry on every ride. I've loaned it to underdressed cyclists on group rides this winter so they'd be safe and not miserable.
I also have a Nike Dri-Fit hoodie, it's not waterproof, just thick wicking fabric. Surprisingly warm in cold weather and breathable in coolish-warmish weather. I plan to try it on my next rainy ride when the temp is cooler just to see if it's still warm even when soaking wet.

---
No Mudguards
Alan, from Plymouth, England
My bike has no mudguards (fenders). When I go fast through a puddle, the front wheel throws up water into my face and all over my front, while the rear wheel sprays my back. I don't mind getting wet and dirty, but not in my face.
The solution is a cosy cycling cape. While the water sprays all over me underneath, my face stays clean. Now going through puddles is huge wet fun. After a few puddles I'm soaking wet but can still see where I'm going. Everytime I race through a puddle lots of water shoots up. Spray from below, rain from above. What more can one ask for?
When I get back home I enjoy a long bath in my cycling clothes and rain cape. That way they get cleaner than rinsing them in a bucket or hand wash basin. No need to peel out of cold wet and dirty clothes. I keep them on and just relax in a hot bath after a long ride and ease the tired muscles.
Afterwards, I clean and lube my bike and put it in the bike shed for the next soaking wet rain run.

---
You Will Get Wet
Tui from Chiang Mai, Thailand
I've come to the conclusion that there is simply no way you're gonna stay dry on a bike if there is serious rain going on. Fenders help. A good rain cape helps. Rain pants help. My gloved hands stay dry under the cape draped over the bars.
But even the best technical fabrics don't breathe all that well. They're pretty good in cooler or cold weather. But in warmer weather, you get wet from the inside out and all that changes.
Resign yourself to your fate. You're gonna get wet. Focus instead on being more comfortable (e.g. not cold and not overheated). A waterproof lightweight rain anorak with a lot of ventilation options (velcro cuffs, pit zips and a double zipper) will let you modulate your temperature best.
On tour I wear an Anorak or rain cape. The pocket in the front is useful for small stuff. When I get too hot I jump into a lake too cool off.

---
Rain Capes are Best
Andreas from Hannover, Germany
I agree with several of the comments above, you will get wet to a greater or lesser extent. Unfortunately what I see being your biggest issue in a hot humid climate is the inability to repel rain and simultaneously not stew in your own sweat and trapped body heat. In my climate the bigger challenge is staying simultaneously warm enough when wet most of the year.
My Gore-Tex type gear causes me to sweat too much to the point I may as well just get soaked by the rain. For that reason I wear a rain cape in rain or sunshine as it has better ventilation.