Coastal Hiking
Do you love long walks on the beach, even in the rain? You've come to the right place because this page is all about coastal hiking.
Taking in the dramatic ocean landscapes, going for a refreshing swim, and having lunch in a secluded cove, is what draws hikers to the coast. Anyone can enjoy a coastal hike. If you want to really get off the beaten path and enjoy what the coast has to offer, load up your waterproof pack and hit the beach.
Rainy Days
Rainy days by the sea are not wasted when you go on a coastal hike. The high humidity means you are less likely to get cold if you wear a few thin layers that keep wind and spray off your skin. The key is to limit evaporation cooling when you get wet.
Beautiful Scenery
While you're exploring the challenging trails, just remember that you maybe headed to some of the most beautiful and remote beaches, and walk up rolling green hills alongside dramatic cliffs, sand dunes and forests.
Powerful Workout
Feet, shoulder and back pain are common complaints on longer hikes. Trudging through sand and gravel on the beach routes will really work your legs. Your body should adjust a little after the first couple days. Just remember pain is temporary and your wet coastal trek memories will last a lifetime.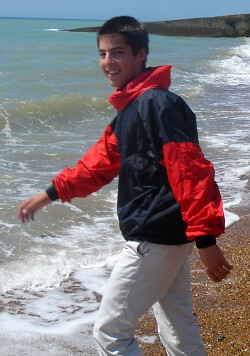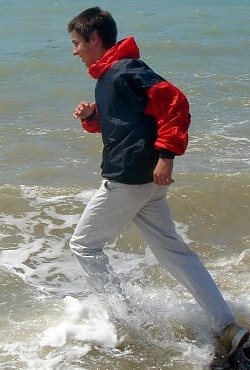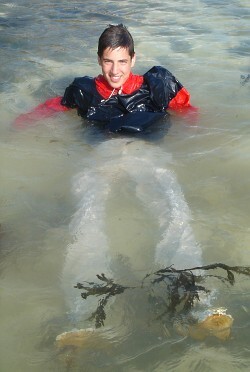 Clothing Tips
The right gear makes for hiking success

. Below is a list of clothes we've found useful for long or short hikes.

You're hiking along the coast, possibly right along the water. Expect to get wet. Be prepared for immersion. Avoid cold cotton. While comfy clothes are fine for warm climate, a neoprene wetsuit under rain gear works best in cold water.

Your clothes may get wet, it can get chilly at night or in the water, so plan accordingly. You'll want at least:
waterproof anorak or cagoule with hood,
waterproof pants,
1 fleece or wool outer layer hoodie
2 shirts, synthetic or wool
2 pairs of quick drying trekking or cargo pants
2 pairs of leggings or long underwear
beanie, gloves, and 3 pairs of socks
gaiters to keep mud, sand, water, and trail debris out of your shoes
hiking boots, quick drying. Walk a fair distance in them before you hit the trail
sandals once you reach your campsite. Tevas are a backpacker favorite.
Rain Gear
Even if it doesn't look like rain, you'll likely want rain gear to keep you dry on cold, foggy mornings and hiking alongside the shore. We recommend unlined thin anoraks or cagoules. You can layer extra clothes underneath to go with the weather. When packed away they take up less space than padded jackets.

Dress To Get Wet
Rockpooling is similar to coasteering, where you climb, scramble and slide along the sea front whilst trying to stay dry as long as possible. If you do it right you will get completely wet after a while. Make sure you're dressed for immersion.
Dress for swimming in the sea, in robust clothes or wetsuits, buoyancy aids and such. This is an integral part of coasteering even on routes where it is possible to stay dry.
Coasteering is never a dry climbing activity. A route, or activity, where the group start out with the intention of staying dry, whether through route choice or the use of ropes and harnesses, is not coasteering.
Safety equipment reflects the environment in which you are and often includes:
Protective clothing to stay warm and reduce injury risk
Buoyancy aid when near deeper water
Shoes for good grip on the rocks
Gloves to prevent abrasions where needed
Helmet where necessary
Wetsuit underneath your clothes for cooler waters
The coast can be a dangerous place. Seaweeds are slippery. It is easy to have an accident when crossing difficult terrain. Jellyfish may be present where go, but most of the varieties you encounter are of the non-stinging type. That is why we recommend you wear robust clothes like jeans, hoodies, and tough canoeing anoraks to soften any fall and avoid stings.

Sample Outfits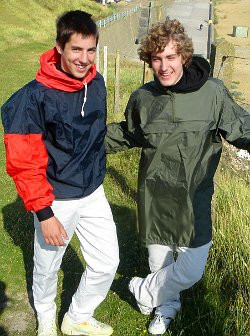 Short and long cagoules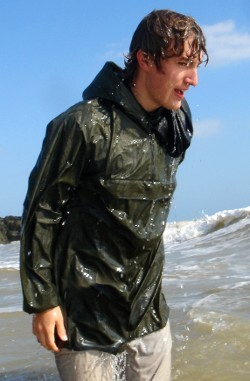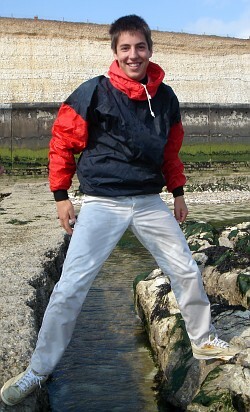 Robust nylon pants avoid cuts and bruises.