Camping in the Rain
When you're overnighting in the rain, a few tricks can help you stay as comfy as possible.
In this section we share some wet weather camping tips

to make your trip a success!

Don't panic, you won't melt. When you go hiking or canoeing, stop and haul out the rain gear when the signs point to rain. Don't wait for the rain to start. Stay prepared for rain all the time so it will not cause an emergency. Rain is not the end of an adventure, it's the best part of it. Your coldest, wettest, most challenging outings you will remember most fondly.

So let us share with you our love of camping, easy tips, and earned knowledge. When you bring an open mind and a sense of adventure, you too can enjoy one of the greatest types of vacations available that will not break the bank.

Camping in the Rain can be a Beautiful Experience!
Wet weather camping can be an extremely enjoyable and a unique experience if you are prepared. With the right camping equipment and the right rain clothing, the weather shouldn't be too much of an issue.
Camping in the rain doesn't need to be difficult. With a little bit of planning, you can still enjoy a great camping trip in wet weather. As long as you keep your tent and sleeping bag dry, you can enjoy a good soaking in the rain or in the water. Remember, rain clothes can double up as swimwear since they're already wet and dry quickly.
Many camping enthusiasts oddly prefer wet weather camping. When conditions are wet you'll be able to avoid the crowds, probably see more wildlife, and be able to experience wilderness areas in completely different ways. Enjoy the real sense of adventure you get from camping out in the elements of nature.

Positive Mental Attitude
Being wet for days on end can take its toll on the most experienced hikers. One of the important factors for a good time during a rainy hiking trip is having a positive attitude. It's inevitable when you go camping, eventually at some point you will be camping in the rain.
You can choose to be wet and miserable, or you can accept that camping in the rain is a part of camping. Make sure you are prepared, set your tent up to stay dry, and enjoy another beautiful side of nature.
When you're mentally prepared to be wet and still have fun, you'll probably have a great time. You can sing and dance to keep warm, or go for a swim since your clothes are already wet. No need to get changed.
The dripping of the rain on your tent can be so relaxing, the rain smell in the air, and sometimes just even sitting under your tarp, watching the water fall. At night snuggle with your friend, cozy, warm, and dry in your tent while listening to the rain
It's also recommended that you line your pack with a garbage bag and make sure your sleeping bag is in a waterproof dry bag or compression sack.
Packing List for Camping in the Rain
Tarps, tarps, and tarps! We pack about 6 or more tarps for every trip.

Rain ponchos. Pack several rain ponchos for everyone.

Pole and Rope setup for rain/dining flys.
So make the best of the situation, and the best way to do that is by being prepared. Maybe the next time you go camping in the rain you won't be disappointed or miserable, but have lots of wet fun, and a dry shelter to return to.
Reader Comment: Camping in Assam, India
by Tharn from Bangkok, Thailand
The Assam regions in eastern India probably gets the most annual rainfall in the world. Hence it is lush and beautiful, just right for camping if you're fairly waterproof.
We only took a few quick drying clothes and rainwear to keep the weight down. No cotton or swimwear, because we would be wet almost all the time. Microfleece towels would help us dry off at night before bedtime.
My friend and I arrived from Delhi at the Pasighat Airport in Assam. It is north of the mighty Brahmaputra river, near the foothills of the Himalaya. From there we took a bus to the cloud covered mountains.
As we arrived it was raining a lot. The bus driver smiled as we put on our large hiking capes and ponchos. It took another 2km walk to our destination, including some water crossing where we had to wade in chest deep. By the time we arrived we were soaking wet.
The campsite by a beautiful lake was primitive, but adequate. We put up a tarp on bamboo poles in a sheltered corner. Underneath we put our dry tent, protected from the rain. Waterproof backpacks are great for keeping stuff dry, even if you have go through water.
We explored the area around the campsite in the heavy rain. It smelled so beautiful. Since our clothes were already soaking wet, we went into the lake for some fun. No need for swimwear. Swimming in clothes is more refreshing as the water is cooler than the air and keeps the clothes cool while walking around. Whenever we get too hot, or the clothes dry out, we go back into the water to cool off and get the clothes wet again.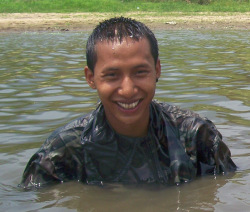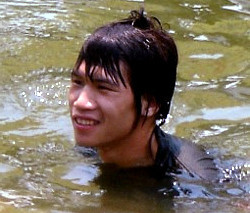 We stayed for three weeks, enjoying wet adventures all day long. At night we hung our wet clothes up under the tarp, dried each other off and snuggled up in our tent. Easy life.