Kayak Pool Training
The best way to learn kayaking is in a swimming pool

.

Kayakers should be confident in the water with their head above and below. If you are prone to panic when your face goes under water, think carefully about kayaking as a sport or hobby. This is a very immersive watersport. Low volume play kayaks let you perform all sorts of wild stunts.

You'll enjoy frequent dips into the water while you learn how to capsize your boat, how to right it and then get back inside safely. It's all part of kayaking and is easier than it looks. You want to be able to get back in once you fall out.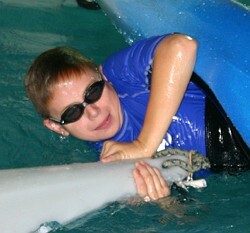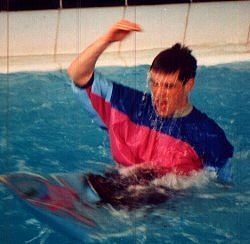 Balance
When standing up in a kayak you often fall into the pool but soon learn how to keep your balance. Of course, if you don't get it quite right, the lesson is enhanced by a dip into the water. This helps you learn to balance a lot better, quite quickly.
It's easier in dry clothes, but you might be more nervous about falling in. Wet clothes are heavier, but give you more confidence because you're no longer worried about getting your clothes wet.
For this reason some teachers get their class to swim several pool lengths in clothes for fun and fitness. When done at the beginning of a session then everyone paddles in wet clothes. If you prefer the thrill of getting wet in the heat of the action, do the swim at the end.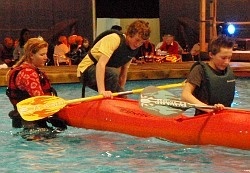 Still in dry clothes and nervous.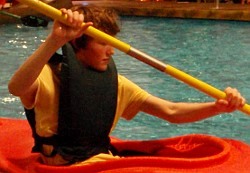 Once wet you're more confident.
Learn to Swim in your Paddling Clothes
For health and safety reasons all paddlers must learn to swim fully clothed over a distance of at least 50 meters. Longer distances for adventure swimming can be achieved with regular training. When you do a wet exit, experience and confidence may save your life. These lessons are always unique fun. Not everyone has a chance to swim in clothes every week.
Like most watersports, kayaking involves occasional swimming. You won't be paddling just in shorts, so get used to wearing all your paddling kit in the water. Swimming in clothes is an essential part of good kayak lessons. Great fun when practiced often. Come prepared to get soaked and have a lot of fun.
Essential skills like swimming in a variety of clothes can be mixed with games and challenges, designed to improve your swimming and water confidence. Your instructor should be in the water, right with you for coaching and safety.
The first session should focus on learning how to move, balance and enjoy swimming. Start with light clothing, then jogging suits or tracksuits, and finally a canoeing cag/anorak with spray deck. Take time to focus on individual skills instead of one overwhelming exercise.
Build up your fitness levels and water confidence as you socialise with others in this fun activity. Laughter is a good way to release some of the tension. When scared or nervous, most people tense up, losing their ability to react to the water. Shake it off, dance it out, have a giggle or smile. Remember, we do this because it is fun.

Clothes for Pool Training
Waterproof clothes provide the most realistic pool training. Hoodies soak up a lot of water which makes rolling practice quite challenging. Long pants protect against cuts and bruises in the kayak. A shirt avoids chafing of the spray deck.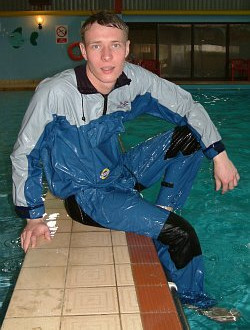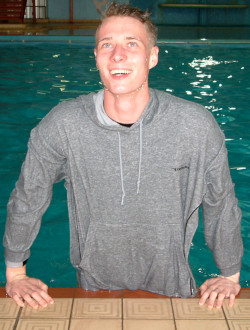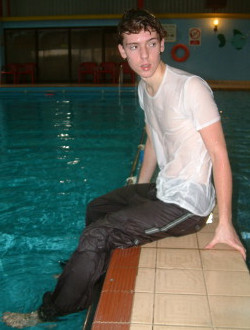 Reader Story: Pool Training
by Karim from Amsterdam, Netherlands
Kayak pool training is always huge fun. We learn lots of new skills, like wet exit and entry, rescues, the eskimo roll and how to deal with a flooded boat. Our instructor spends more time in the pool, helping us to roll, than in his boat.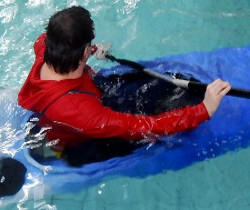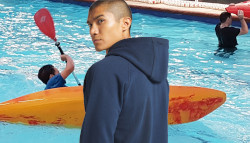 Our instructor often jumps into the pool to help out.
We're told to wear robust clothes for the pool sessions and thus avoid scrapes and bruises when playing with the boats. At first I ignored that advice, but soon painfully realised the wisdom and experience.
Now I always wear a jogging suit in the pool to stay safe. It feels quite good in the water. Because I'm the youngest and smallest in the team, they carefully throw me into the water right at the beginning of each session. They know I enjoy that. Occasionally we use canoeing helmets which I find a bit hard and uncomfortable unless I wear the hood of my jogging suit underneath.