Pool Training
The best way to learn boat handling is in a swimming pool

.

Boaters should be confident in the water with their head above and below. If you are the kind of person who would panic when under water, think carefully about boating as a sport or hobby.

You'll enjoy frequent dips into the water when you learn how to capsize your boat, how to right it and then get back inside safely. It's all part of boating and easier than it looks. You want to be able to get back in once you fall out. Anyone considering boating lessons should be able to swim at least 50 metres fully clothed.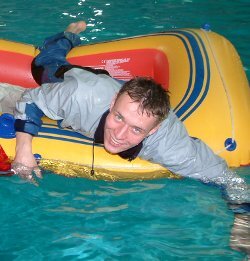 Canoeing
The best place to learn how to handle an open canoe is in the pool. Capsize training in the pool is exciting fun when fall into warm water fully clothed and learn how to get back into the canoe.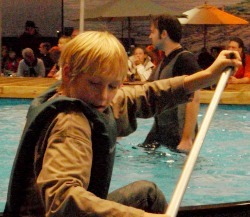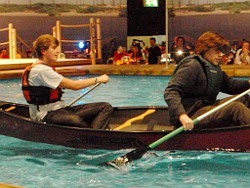 Lean over until you fall in.
Kayaking
When you stand up in a kayak you soon learn how to keep your balance. Of course, if you don't get it quite right, the lesson is enhanced by a dip into the water. This helps you learn to balance a lot better, quite quickly.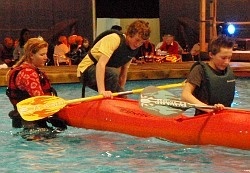 Standing up in a kayak often lands you in the pool. It's easier in dry clothes, but you might be more nervous about falling in. Wet clothes are heavier, but give you more confidence.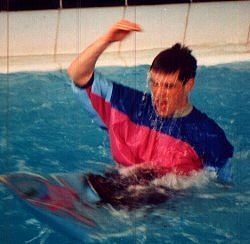 Low volume play kayaks let you perform all sorts of wild stunts.
Rowing
While the pool maybe too small to get up to speed, it is a great place to practice the capsize drill and self rescues.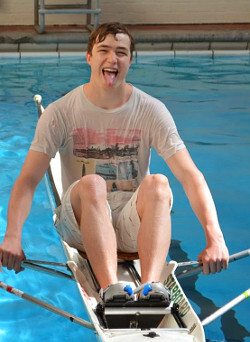 Pool Clothing
Comfy clothes avoid chafing and bruises when playing with boats or splashing around in the pool. Falling into the water fully clothed is a good preparation for many outdoor adventures.
Most pool operators prefer that you wear clothes of man-made fibres that don't clog up their filter systems. Sports clothes, anoraks and cagoules are best because they are designed to get wet, feel good in the water, and dry quickly.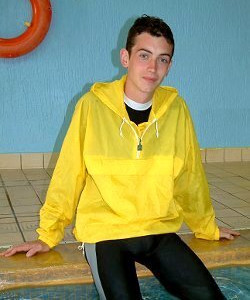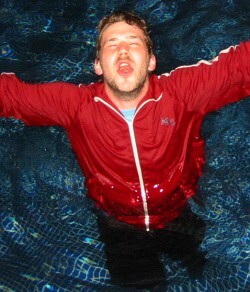 Bliss out in a tracksuit!