Boating Clothes
If you've never been on a boat before, one of the biggest questions in your mind is probably this: What to wear when boating?
On this page we help you figure out what to wear on your next outing. There is a wide range of sailing gear and accessories available on the market today.
You've probably seen glamorized images of people on sailboats wearing white linen pants and blue-and-white nautical tops. Or maybe a colouful windbreaker with a dashing polo shirt. When the weather and water are warm the choice of the best boating gear depends upon your preferences and the current water fashion.
Consider Where You're Going
What to wear really depends on where you're going. Skimming across bright blue water in the Caribbean is way different than sailing in the cold and windy British waters. Assess the weather conditions and forecast of where you're planning your sailing trip.
When you're sailing, it means the weather is windy. No matter the temperature, realize that on a sailboat, you're probably going to be colder than you think. Wind mixed with water spray usually results in a bit of a chill. You'll probably get quite wet, since sailing is a watersport.

Layering
The first big thing to remember is to bring more clothing than you think is necessary. Layering up can mean the difference between feeling miserable and comfortable on a boat or in the water. Several thin layers are better than one thick layer.
Swim Test
Whatever clothes you choose, go for a swim test. This is important to avoid surprises later on. Jump into a pool or lake with all your boating kit on. Swim 50 meters or more to see if you can swim in clothes over a distance and if they feel good in the water. Try different outfits to see what works best.

Sun, Wind, Spray, and Immersion
The popularity of sailing in recent years can be attributed somewhat to the significant improvement in dinghy sailing clothing that makes it feasible to remain warm and dry in most conditions. Improvements in sailing wear have been the development of the new 'breathable' fabrics allowing perspiration to evaporate and escape without allowing water in.
More practical sailing clothing is needed for serious sailing in cold weather and rough seas. The main sailing equipment manufacturers, such as Musto, Henri-Lloyd, Splashdown, Helly-Hansen and Gill make designer sailing wear in a series of grades to suit dinghy racing, coastal cruising and racing or serious offshore yacht work.
The choice of dinghy sailing clothing or sailing waterproofs is between drysuits for sailing verses sailing dinghy wetsuits. A lightweight 'shortie' sailing wetsuit for summer sailing, leaves the arms and lower legs uncovered is the most suitable, while cold weather conditions call for a full wetsuit and in winter use, a suit with seals at the neck, ankle and wrist. Improvements in materials have transformed the sailing drysuit that is easy and quick to put on and offering total protection.
The following is a guide to the various clothing for sailing and dinghy sailing gear.

Overall
One-piece dinghy suits are quite good as they stay put when you move around, protecting your back from cold. Swimming is easy as well in these overalls. Underneath wear quick drying sportswear like thermals and tracksuits. In our experience this is the most comfortable outfit when it is not too cold. Great for swimming too.
Wetsuit
On cold days it is advisable to wear a wetsuit under your dinghy suit. When you go into the water, it enters the suit, but then a thin layer of water is trapped between the suit and your skin, and your skin quickly warms this water and insulates you from the cold.
If you have a wet suit and know you're going into the water, put it on in the shower to put a thin layer of warm water inside the wetsuit. Make sure it reaches everywhere, legs, arms and body. Put your rashvest on first while you're still dry. Wet Lycra is not so easy to put on. Your dinghy suit worn on top keeps the wind chill off. Now you're ready for a dip.

Lifevests
One of the key essentials of any water adventure is a life jacket and is an element of boating gear that cannot be overlooked. It can protect you from accidents and injuries and keep you afloat in case of an unplanned immersion in the water.
It isn't the most fashionable look on the market, but it is an absolute necessity when it comes to open waters, being the equivalent to a seat belt on a car.
How to Choose a Good Lifevest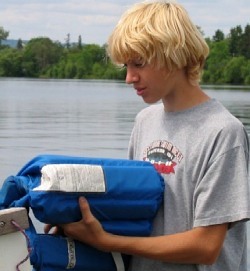 Read the label. Lifevest sizes are usually selected by weight, chest circumference and overall body build of the wearer. Measure the largest portion of your upper body as your chest circumference.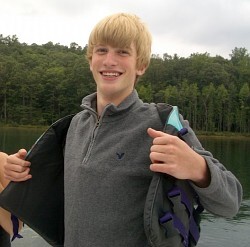 When you try on a lifevest loosen the adjustment straps, usually two on each side, shoulder straps, and a belt below the zipper. Put it on over your clothes and proceed to tighten the straps with the side adjustments first. You want a snug fit that is not choking you.
Water Test
Now jump into the water to get a feel of the lifevest on top of all your boating clothes. Raise your arms and have a friend grab the top of the vest, pull up and then quickly let it go. If it slips upward more than an inch, it's not a good fit and will be unpleasant to swim with.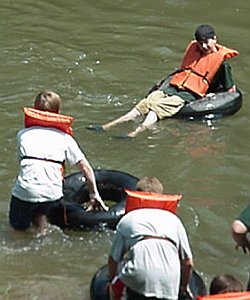 Make sure you go over the possible pros and cons of the vest. Does it fit well over your clothes or interfere with them? How do you feel about the cut of the neck? Is your chin rigid and hindered by the collar of the vest and so on? Answer these for a moment, and if not positive, keep looking.
Flexibility: Lift your arms as high as they can go and then draw them inward as far as possible. Make paddling motions by grabbing a kayak paddle and doing the motion. This is to check if the vest bunches up in front and hinders free arm motion.
Breathability: Consider when and where you will wear your lifevest, the weather and the water conditions. The lifevest should ideally be easy to loosen for breathability on hot days but can be quickly tightened when there is rough water ahead. Models that are tough to adjust will probably be worn loose, which can be dangerous if you capsize at a rapid pace.
Color: Choose a bright color that will contrast against the water. You want to be seen quickly and rescued in case of a capsize.
Now you have all the gear, it's time to often practice swimming in your lifevest and boating clothes.